Guys! I did it!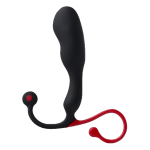 After over 20 sessions, I was able to have an orgasm with my Helix Syn. The secret was listening to this audio from /r/gonewildaudio. It worked like a charm!
Now, I don't exactly know what type of orgasm this was. I came buckets, which might have been because I haven't came in over a week. It was everywhere.
I never touched my cock with my hands, which was rock hard, but my legs were brushing up against my balls and lower cock. It was very slight and I definitely wasn't fucking my cock with my legs, or anything like that. This largely happened with nothing touching it.
The buildup was fantastic – I came before the audio even got the part where she talks about touching me. It felt really, really good.
What I don't understand is why I ejaculated, when everyone talks about a prostate orgasm not causing that, and they usually don't have an erection when it happens, right?. What was I doing differently that caused me to spray everywhere?
Source: https://www.reddit.com/r/aneros/comments/3wz83s/i_just_had_my_first_handsfree_orgasm_using_an/